Background photo of a young woman with a Gay Pride flag and two ladies together having a picnic at the park.
"It has been the dream of many clinicians in San Francisco to make sure that people with serious illness in our community understand the concepts of palliative care."
Read Redwing's Full Story
We encourage you to reflect on 2-3 recent ACP discussions you've had with patients. What was challenging about them? What went well? What would you want to do differently next time? For a different perspective, consider having an ACP discussion about your own goals, values, and preferences with your clinician or surrogate decision-maker.
Clinicians Play a Critical Role in Engaging Older Adults in Advance Care Planning
What is the goal of advance care planning (ACP)?
ACP is a process that supports adults at any age or stage of health in understanding and sharing their personal values, life goals, and preferences regarding future medical care. The goal of ACP is to help ensure people receive medical care that is consistent with their goals, preferences, and values, especially when they are seriously ill or at the end of life.
ACP improves outcomes. It improves patients' quality of life and wellbeing and reduces surrogate decision-makers' stress and grief.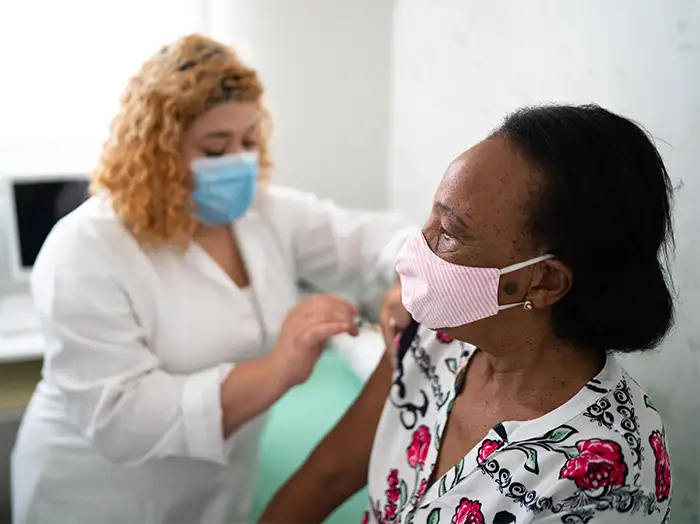 However, many clinicians - including doctors, nurses, social workers, and others - do not receive training on how to have ACP discussions with patients. For many clinicians, ACP discussions also tend to focus on choices about specific treatments, rather than on goals and values, which requires that people predict the future and does not account for patients' preferences changing over time. Additionally, many clinicians have limited time during visits with patients to discuss ACP - the framework and resources we provide below can help make these conversations easier and more effective even when time for discussion is limited.
As clinicians, our goal should be to help prepare our patients for decision-making through conversations about goals, values, and preferences over time.
While these conversations may seem tough to have with patients, it's important to note that research has shown most patients have thought about ACP, most patients expect us to bring it up with them, and most patients feel better having had an ACP discussion.
A framework for clinicians to discuss ACP with patients:
1.
Get to know your patient: Learn more about your patient's daily life, hobbies, and priorities.
"How do you spend your days?"
"What activities are most important to you?"
"What activities bring you joy?"
2.
Normalize ACP: When starting an ACP discussion, normalize the topic by sharing that it's an important part of good healthcare for all patients. Highlight its value with specific examples (for example, ACP can help patients have a say in their medical care or it can be a gift to surrogate decision-makers by reducing burden). Remember to ask permission before starting the discussion.
"In order for me to take care of you as well as I can, it's really helpful for me to understand your hopes, wishes, and worries about the future. Would it be ok if we talk about this today?"
3.
Identify a surrogate decision-maker: A surrogate decision-maker can be any trusted person, such as a family member or friend, that can help speak on a patient's behalf when they are no longer able to make medical decisions on their own. When a patient identifies a surrogate decision-maker, it's critical that the surrogate decision-maker knows they have been chosen for this role. Ask questions to assess whether the surrogate decision-maker is aware of their role, and what specifically the patient has discussed with them.
"Is there anyone you trust to make medical decisions for you?"
"Does this person know you chose them for this role?"
"What have you talked about?"
4.
Use stories to explore patients' goals and values: Eliciting stories of patients' past experiences, either with their own health or with that of family or friends, can be a helpful place to start exploring patients' goals and values.
"What experiences have you had with family/friends who have been seriously ill?"
"Have you ever talked with your surrogate decision-maker about what care you would want if you were seriously ill?"
"When thinking about the future, what are you hoping for?"
"What are your biggest fears and worries when you think about the future of your health?"
5.
Document ACP: Documenting an ACP discussion is critical, so that other clinicians can be aware of patients' goals. We recommend that clinicians document ACP discussions in the medical record and that patients document their wishes in an advance directive. Whenever possible, encourage patients to share copies of their completed advance directive with all their doctors and health systems where they receive care, as well as with their surrogate decision-makers.
Special considerations and tips we learned
from the San Francisco community:
People do want to talk with their clinicians about ACP. Whenever possible, they prefer to do this with their trusted doctors and other clinicians, rather than with new teams during hospitalizations. They also prefer doing this before emergencies arise.
No group is a monolith. ACP discussions are highly individualized. While some communities may have general preferences for these discussions (for example, the San Francisco Chinese community supports having intergenerational ACP discussions), do not assume these preferences apply to all individuals within a community.
Be mindful of the language you use when having ACP discussions. For example, "family" can mean different things to different people, and can be alienating to those who do not have a traditional family structure or any family in the United States. When getting to know your patients and asking about surrogate decision-makers, consider starting with broader language, such as "who are the important people in your life?" Additionally, using normalizing statements can help reassure patients that you are not targeting them for an ACP discussion because you think they are particularly sick.
When patients are having ACP discussions with their clinicians, many want to include their surrogate decision-makers or families in these discussions. Consider asking patients who they want to include prior to launching into an ACP discussion.
Be prepared to address other end-of-life planning questions or to direct patients towards resources or other clinicians (such as social workers) who can help answer these questions. For example, many patients have questions about finances, estate planning, funeral planning, life insurance, etc.
You may be interested in reviewing our Learning Journeys research to see what we learned first hand about language and attitudes around ACP in different communities. The report will be posted soon.
Please check our Resources Page for resources for clinicians and resources to recommend to patients to start thinking about ACP.